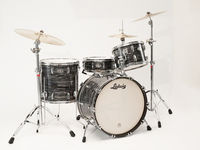 Ringo Starr in a pensive mood at BBC Paris Studio, London, Wednesday 18 December 1963.Above photo is the 'new' Ludwig Liverpool 4 Kit.

You can wait for the Beatles' Rock Band but this is the real thing. Ludwig is reviving the Black Oyster Pearl drum finish that The Beatles' Ringo Starr played in 1964 in the famous Ed Sullivan Show. Now it's called Liverpool 4 Kit.Recommended price is $4285, stands not included.
"First and foremost I am a drummer. After that, I'm other things. ...But I didn't play drums to make money. I played drums because I loved them. ...My soul is that of a drummer....It came to where I had to make a decision -- I was going to be a drummer. Everything else goes now. I play drums. It was a conscious moment in my life when I said the rest of things were getting in the way. I didn't do it to be come rich and famous, I did it because it was the love of my life."

-Ringo Starr,1984
The Beatles in Miami, rehearsal for the second Ed Sullivan Show, Feb 1964. Note Ringo's Ludwig-that's what we're talking about!
Buy The Ringo Starr Encyclopedia now at best price